I started making jewelry almost 3 years ago. What started out as one plastic storage bin (remember how exciting that is?) and a few tools has grown into a space that takes up more than half my basement. It only took a few months to realize that this was something that was evolving into a potential side business.
I've scoured and scored on craigslist, most of the large items in my studio. It all started with the handmade jeweler's bench, it has a very primitive quality but it is quite sturdy. Over the last year, I've carted (we always must have either a large van or a truck) an 8' farm table and lovely custom made craft bench.
I think we've finally come to terms with the fact that our basement will never appeal as a family room (we've been trying to make it one over the years). The space feels separate from the rest of the house and bits here and there are unfinished. I find that my faux white brick walls make me feel like I could possibly be in a downtown loft, until my cat walks by outside at eye level (ground level window). Each step I've taken to make it an appealing creative space to play, makes the process that much more rewarding.
I got this lovely chippy shutter screen from my mom. It serves the dual purpose of hiding the treadmill and makes a great background for taking pictures. The white vintage form was one of my favorite craigslist finds.


Craigslist find #2. Custom made jewelry bench with great open storage. I paint in this corner.
Craigslist find #3. My 8' farm house table. Sturdy - have grown to love the vintage linoleum top (with its bits of embedded glitter). It situates perfectly under my basement window.
Vintage buttons + twine. Gift box embellishment.
Raiding the kitchen for storage. This is the "need to put away" bin. It seems to just get bigger, not smaller.
Looking down the length of my vintage farm table. Can I keep it this way?
This seems to be the best bead storage solution for me to date. Storage drawers from Ikea with tray inserts from Nile Corp.
I have had my file cabinet + plank style desk for quite a while. It has a rubbed white finish and a large work area. My husband recently stopped needing his computer with nice big monitor, I've snagged it primarily for watching British period dramas while working (currently working on season 3 of Lark Rise to Candleford).
Looking for more inspiration? View other participating crafty spaces -
Where Bloggers Create 2001
.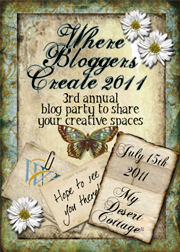 My Desert Cottage